70/401
Located on the fourth floor of a modern high-end residential apartment called Seventy, this project is an attempt to create a calm, luxurious oasis for a family of doctors for their occasional visits to Ahmedabad.
With a glass facade on three sides, all internal spaces of 70/401 enjoy beautiful natural light and views of green foliage leveled with the apartment. Responding to its architectural character, 70/401 is envisioned as a space of lightweight character, unifying different elements into a simple and minimal gesture of planes. All walls, doors, windows, and ceilings are reduced into vertical & horizontal planes, differentiated by varying materials and textures.
In the private zone of the apartment, a hundred feet white oak wall conceals room doors, storage units, and built-in appliances, becoming a feature that enhances the linearity of space and reduces visual clutter.
Materials from the architectural elements of the house are continued in the custom-made furniture pieces. Natural light streaming in through the glass facade is complemented by the soft glow of translucent banana leaf lighting fixtures. Together, the carefully selected minimal furniture, light fixtures, and artworks bind the spaces together and provide a sense of continuity and harmony. It is a calm, minimal oasis that creates an island of repose.
Categories
Residential
Timeline
2021
Status
Completed
Location
Seventy, Ahmedabad
Size
420 m2
Awards
Publications
Elle Decor
Share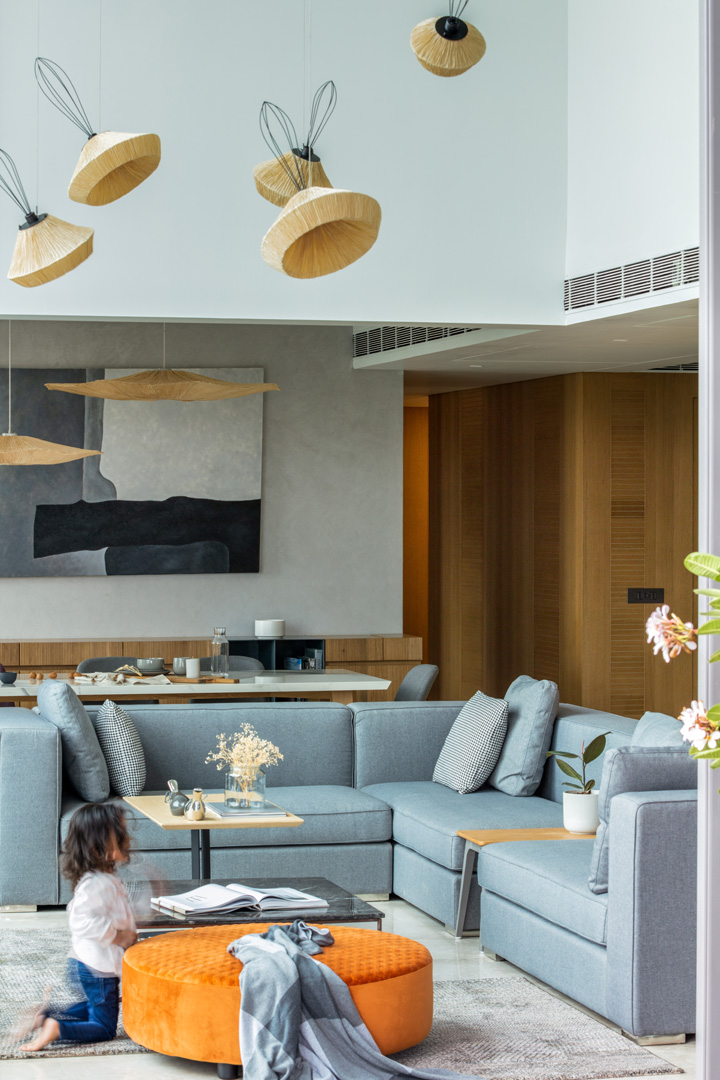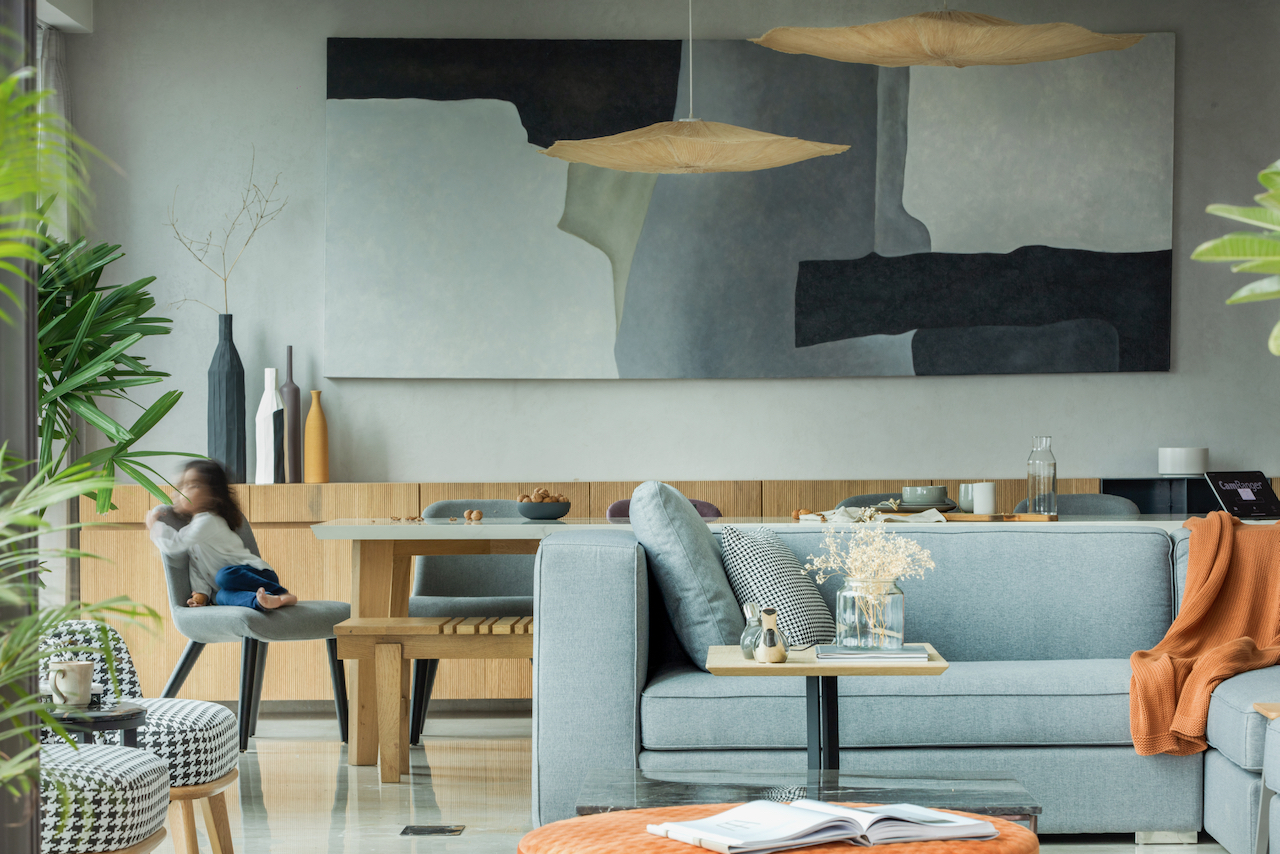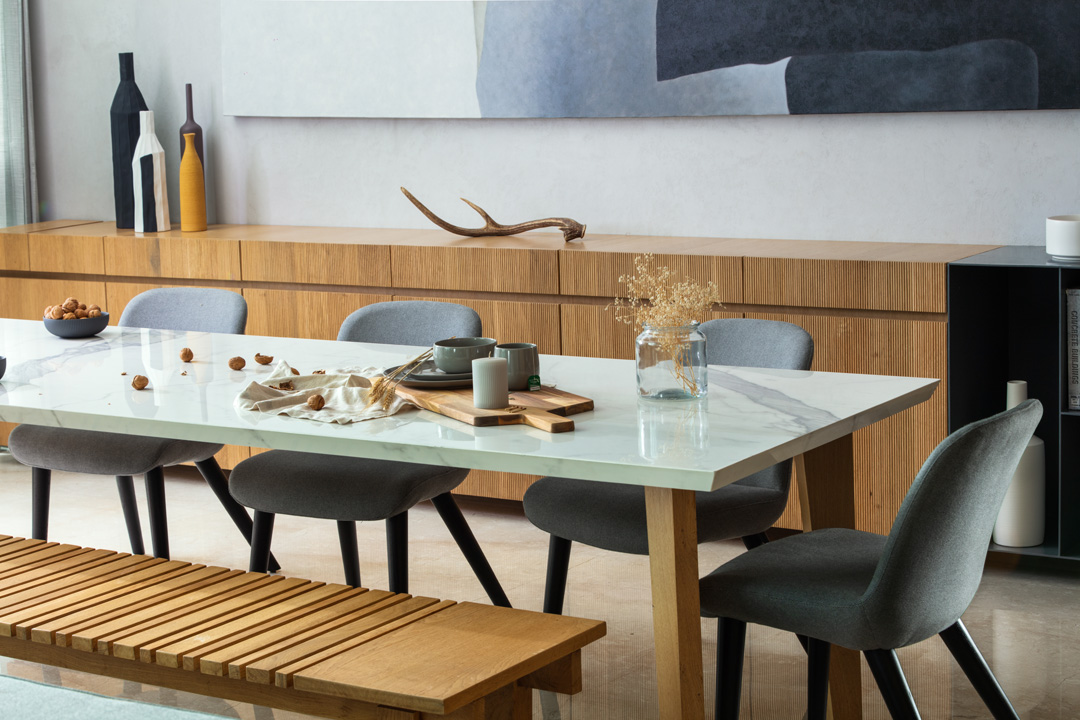 The interior spaces of the house were designed to enhance the feeling of luxury by using a neutral color palette. A combination of subtle shades of grey in the marble flooring, plastered walls, fabrics, and upholstery was used as a backdrop, while white walls and ceiling helped to create a sense of calm. Natural elements such as white oak veneer and fluted panels on wooden elements were added to bring warmth to the space.
To add a touch of personality, contemporary artworks, and artifacts were used sparingly in shades of rust-brown and pale pink. Overall, these design choices helped to create a cohesive atmosphere throughout the home.