CIIE IIM Ahmedabad
The Center of Excellence is set up at IIM Ahmedabad with support from the Government of India's Department of Science and Technology and the Government of Gujarat. CIIE.CO facilitates startups - the vessels of innovation, gain access to a corporate network, wisdom, resources, and much-needed support for their go-to-market goals. It closely works with investors to augment their finance and mentoring support to startups in their seed-growth stages.
CIIE.CO is located in the new campus, adjacent to Louis Kahn's old IIMA campus. It has grown from an entrepreneurship center to a Centre of Excellence in 18 years. With this evolution, CIIE.CO required a transformation to represent its current values & position as an epicenter of Innovation.
In presence of the architectural legacy of exposed brick in old campus to exposed concrete in the new campus, the transformation does not overlook the existing context but articulates it. The refurbishment of CIIE.CO honors the existing exposed concrete building while creating an identity for new development. The design brings much-needed freshness & energy, apt for a campus full of young innovative startups.
Categories
Institutional
Programme
Incubation Center, Co-working Spaces, Meeting and Board Rooms, Conference Facilities, Cafe (The Cafe Tomorrow)
Timeline
2018 - 2020
Status
Completed
Location
Ahmedabad, India.
Size
2000 m2
Client
CIIE.CO, Indian Institute of Management, Ahmedabad
Awards
Publications
Archdaily | RTF | Amazing architecture | Archello | Volume Zero | 哇
Share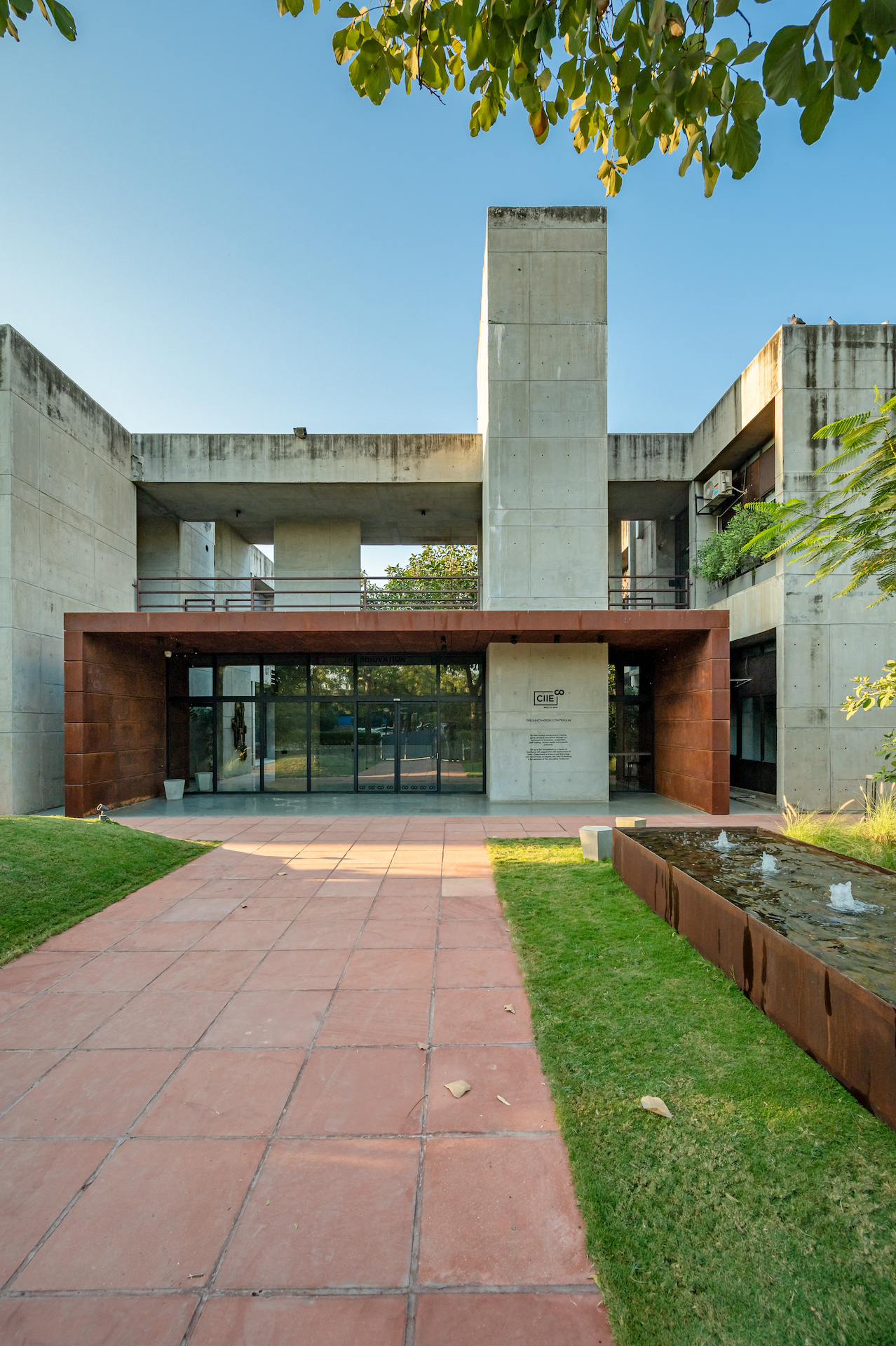 Promoting dialogue between old and new elements, the design solution confers authenticity and timelessness to a new whole. Weathering steel, which ages beautifully with time just like exposed brick and concrete used in the existing campus, was chosen as a primary material. The New entrance is a simple architectural insertion that blends with the existing building in such a manner that it looks as if it was there from the beginning. A simple form balances against the existing and fits within its surroundings.
The building is gradually revealed behind a mini forest of native plants and trees bringing people close to nature while providing an ecosystem for local birds to thrive. An articulation of simple form, natural light, the sound of water/nature, grass, and mini forest reinforce the positive effect of good architectural design.