Blue Zinger
When driving from point A to point B, the intermediate stops are barely important and are used for a short duration of time. Breaking away from this notion, the program and design of Blue Zinger (also known as Food Circle) encapsulate the idea of creating a 'destination' en route NH-8 to demote fatigue driving. It offers a refreshing break for travelers as well as a vibrant hangout space for people living in nearby towns.
An inclined metal cylinder rises from the ground creating a simple yet striking form. This cylinder is divided into two halves. One half houses an indoor food court whereas the second half is open to sky; where an outdoor seating area gets activated during evenings. A rectilinear transparent block, inserted into the cylinder, houses cafe and restaurant that are independent of the food court.
This juxtaposition of forms creates a condition that brings variation in spatial quality, light, volume and scale of spaces. This variation opens up possibilities of multiple activities, catering to locals as well as travelers making it a 'destination' along the route.
Categories
Hospitality & Destination
Programme
Rest & dine facilities for travelers including food stalls, cafe, ethnic restaurant, indoor food court, outdoor dining area, accommodation, rest rooms, kids play area, event venue
Timeline
2020
Status
Completed
Location
Gomta, Near Virpur, Rajkot – Porbandar Highway
Size
Site: 12,000 m2 (129,165 ft2)
Built Up: 3,685 m2 (39,665 ft2)
Food Court: 540 m2 (5,810 ft2)
Outdoor Seating: 582 m2 (6,265 ft2)
Client
Kuber Enterprise
Share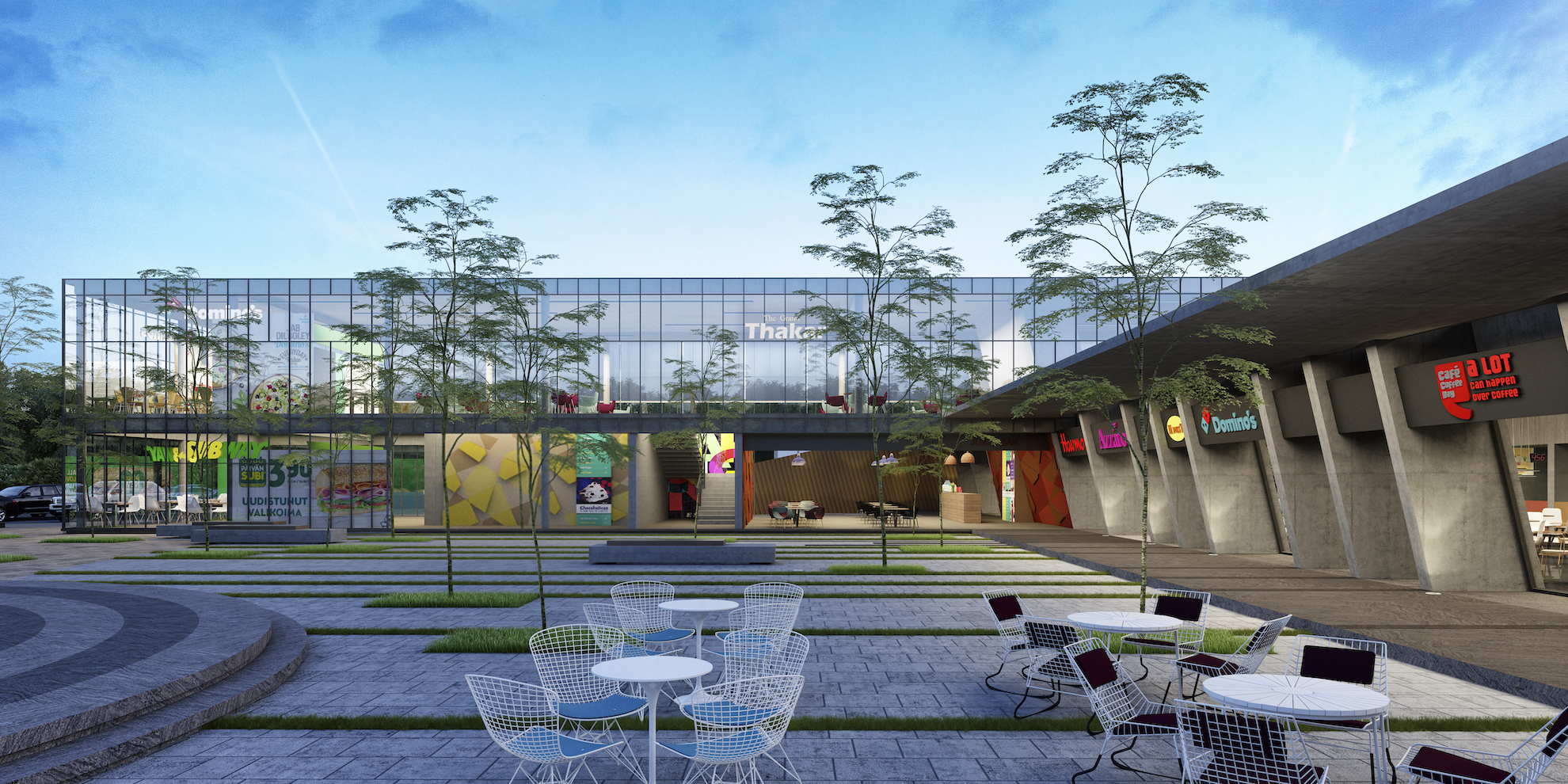 Designed as much as possible according to the principles of climate, inclined cylindrical form with tilted walls minimize solar exposure at any given time which reduces heat gain. Amount of glass facade in west is reduced because of inclined metal roof. The continuous glass facade is interrupted vertically by deep metal walls that keeps out excess heat, while brand hoardings between these walls, acting as another layer of sun protection. Overheating is prevented by a combination of sun protection and the low solar penetration factor of the glass.